By popular demand, we have set up another amazing trip to the legendary Katmai Lodge.  This time Pete  and Lolly Gray  will be joined by co-hosts Harold and Ardath Davis from Davis Boats for one of the great adventure fishing trips of a lifetime.  If you've always wanted to experience the ultimate Alaskan adventure, this is it.  Katmai Lodge is located on the banks of the famous Alagnak River in the heart of Bristol Bay where many of the popular TV fishing shows take place. You will start your adventure in Anchorage. After a short flight to King Salmon you will be greeted and picked up by Katmai Lodges' own Otter float plane for a breathtaking 15 minute flight to the lodge.  Our timing will be prime for king salmon, sockeye salmon and chum salmon in the river as well as some of the huge Alaskan rainbow trout that made this river famous.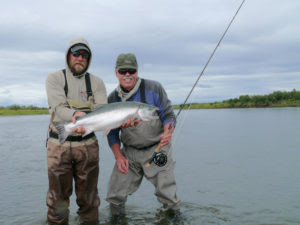 All fishing can be your choice of conventional or fly fishing, and all gear is included. Each morning you can be trophy fishing just minutes from the lodge by boat or you have the option to fly out to remote famous rivers like the Moraine and American to hunt huge rainbows.  You will see brown bears, moose, otters, bald eagles and other Alaskan wildlife while you fish these incredible waters.  Katmai Lodge is fully equipped with a large fleet of Yamaha powered jet boats, comfortable rooms, gourmet food, and a top of the line guide staff that caters to your every need.  They will also process and box your catch for your flight
home.  Our trip is all inclusive of 4 days fishing, lodging, meals and top of the line guides and transfers once you arrive in King Salmon.   We have been given a very special rate of $3995 that represents a $450 discount from their regular price…just for our group. Limited to 25 anglers.  The trip is July 15-19, 2017. For more information or to book call Katmai Lodge 800-330-0326 or check www.katmai.com.